Get a Travel Map for your Blog!
Hey, want a cool map like this one to stick into your Blog? It's easy. Just pick an option here. Which one do you want?
| | | |
| --- | --- | --- |
| Just the Map: | | A Complete Blog Template: |
| | OR | |
| | | Pick your blogging platform: |
Three easy steps to get a Travel Map onto your Blog:
Build your Map by clicking on the cities you want to appear on it.
Save your Map. (Along the way, we'll hook you up with a free Blogabond account.)
Copy and Paste the code we'll give you into your Blog (or web site, or anywhere you'd like!)
Cool! Take me to the Map Builder!
And hey! While you're here, check out Blogabond!
Blogabond is a community for independent travelers and backpackers. While you're dirtbagging your way around the world, you can get a Free Travel Blog where you can write trip reports, post photos, and chart your progress on a map of the world.

So instead of sending out giant emails to everybody you know, you can send your friends a simple link that they can click to check on your progress on their own time, without clogging up their email! It's quick and easy, and it's free (and not clogged up with tons of ads either!)

Here's what you'll get:


Cool Maps like this one (but bigger!), showing where you've been.
Unlimited Photos, tagged, titled and organized for you.
50watts
---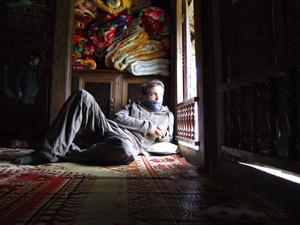 Unlimited Storage, because we've seen some of those mammoth emails you write...


So whaddya say? Click the big shiny button below go get started! It's free, it's easy, and it's actually pretty cool. What more could you ask for?